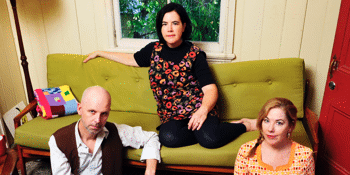 The Junk Bar presents
Tin Star
with Good Will Remedy
The Junk Bar's Skukum Lounge (Ashgrove, QLD)
Friday, 15 February 2019 7:00 PM
Brisbane trio Tin Star, collectively Penny Boys, Cathy Bell and Dan Grant, can be hard to pin down – country folk perhaps with a fragility and spaciousness, much like their music idols Gillian Welch and David Rawlings. Inspired by the folk scenes of sixties Greenwich Village and Laurel Canyon, their strength is the intimacy and passion of three vocals that curl like smoke around each other. Adding guitar, fiddle and accordion creates a sound that many fans believe is its own unique genre; a melting pot of the diverse musical influences of the three members – traditional folk, western swing, acoustic ballads, eighties pop and American rock.
A Better Way To Do Things is the brand new debut album from Tin Star. It was recorded and produced by Dan Grant himself, taking over a year to complete. This time was spent honing his skills as an engineer and even teaching himself banjo from scratch so that he could add some banjo picking to one of the tracks, Best You Can. Renowned mastering engineer, Steve Smart of Studios 301, put the final polish on this collection of thirteen songs.
Predominantly originals written by Dan Grant, one song, the beautiful pop ballad, Sky So Big was penned by vocalist Penny Boys. Dan's unique outlook and inimitable musical style is in the tradition of songwriters such as Steve Earle, Jason Isbell and Bruce Springsteen.
The last two years have seen them performing around the country, predominantly at festivals spanning from southern NSW to far North Queensland, as well as many house concerts, folk clubs and music venues.
Late last year they were honoured to be asked to perform as part of Mick Thomas's (formerly Weddings Parties Anything front man) band The Roving Commission. The three Tin Starians played four shows with the band in Brisbane and had a blast busting out in an uncharacteristically loud and raucous way.
This CD launch is one show only with limited tickets available. There will be some surprises with many of the contributing artists appearing on stage with Tin Star.
Tin Star will be joined by special guests Good Will Remedy. With a long history in the local and national music scene and a CV that includes Brisbane legends Pharaoh's Playground and BUZZkillers - Good Will Remedy are a band awash with strong song writing and performance craft with an honest southern fried feel tinged with alt Countryesque Americana styling. Here they will be in stripped back mode to suit the intimate atmosphere of the Junk Bar.